Contact Us
Company Name:
Fujian Siboly Envirotech Co.,Ltd.
Contact Person: Lydia Li
Tel:

86-591-28300568




13559454587

Fax: 86-591-87557096
Email: lydiali@siboly.com
Address:
Room2007-2008, 24th floor, Hengyu Building,Dongda Road, Fuzhou, Fujian, China
energy saving ,commercial evaporative air cooler
Products description:
Commercial industrial environmental evaporative air cooling.
evaporative air cooler,air cooling fan,evaporative cooling system, evaporative air conditioner
Details of xz10-20S-2
Type
X10208S-2
Airflow(m3/h)
20000
External Dimension (mm)
1100*1100*950
Outlet Dimension(mm)
670*670
Net Weight(kg)
73
Power Supply(v/hz)
220/50
Power Consumption
1.5kw
Water Capacity(L)
35
Water Consumption
20-25
Effective Area(m2)
100-150
Controler
LED-Touch Controller
Luxury Remote Controller
Auto Fan Type
axial
Noise
≤71
Speed
Vairable speed
Evaporation Efficiency
87%
Outlet
Up
Casing
Standard
Model pics:
Classic seriesFunction and feature
1.Shell:Patent desihn,high strengh molecule material,which is UV-proof,anti-corrosion,and anti-deformation
2.Structure: Different air discharge type(including top,down and side) available to meet different installation requiremenrts of various applications.
3.Fan:Using professional designed axial fan,with large airflow,low energy consumption and the lower noise than the centrifugal type in the same airflow
4.Motor:High qulity aluminum motor,with "C&U"double sealing bear,high heat dissipation and protection class,waterproof and moistureproof.
5.Water distribution:Using open type water distributor,which to help flow smoothly and not easy to block.
6.Wet pad:imported green cooling pad(5090),larger evaporation capacity,good cooling efficient and easy to clean
7.Controlling system:Using touch screen wall controller with the luxury remote controller and equipped in the three phase single speed and variable frequency air cooler,this is the first time in china.
Advantage as below
1) Very low invest - Just cost 1/3 of air conditioning -
2) Energy saving -energy saving 80% compare with normal air conditioning.
3) Environmental ,Ventilation, Health - Use natural water cooling .
4) Warantee 2 years for complete unit ,3yeats for motor ,10years guarantee construction .
Widely application
1)Any Industrial (Texitle,Garment,Plastic,Ceramic etc)
2)Commercial (shopping mall,restaurant,parties etc)
3)House,villas, office ....
4)Coporation countries: South Africa ,Algeria ,Philippines ,Thailand,Australia,Brazil ,Romania,Cyprus,Africa,Middle East ,etc ...
Project :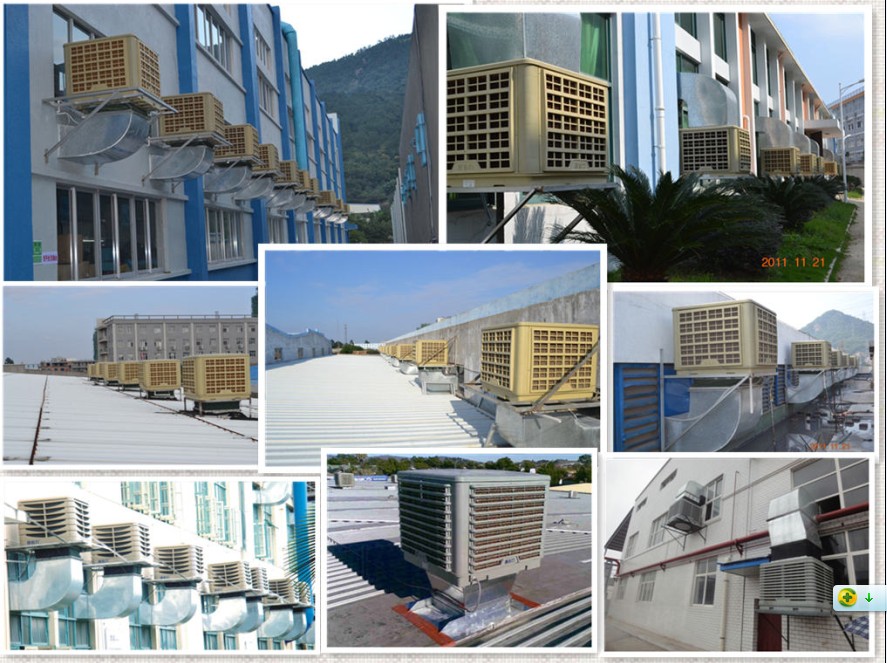 Product Images:
New Products
Relative Keywords
You may also be interested in:
Business Type: